Today is the Annual Day of the Ninja.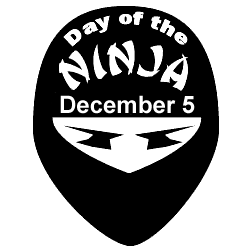 On this day, people are encouraged to dress as ninja, engage in ninja-related activities, and spread information on ninja via the Internet.
Not to be confused with
Talk like a Pirate Day
, this is totally different. The last thing we want is a
Ninja-Pirate
blood fest. Altho it would make a great movie!
Other names for today include:
International Creep Like a Ninja Day

Stalk Like a Ninja Day

Sneak Like a Ninja Day

Move Like a Ninja Day

or simply

Ninja Day